Leading Through COVID-19 and Beyond
I'm delighted you're here and thank you for spending some of your precious time with us during the Leading Through COVID-19 and Beyond Forum.
I really hope you took something away from our time together that will help you be a Leader during these times
Leading During COVID
Click the links to download your personal copy of Steve's presentation Here
Struggling with how best to lead your team during the COVID19 pandemic?
Click here to access a curated list of internal & external links, webinar recordings and articles you might need to lead.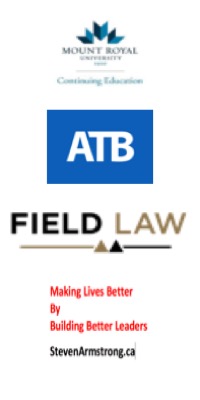 Save $50 on MRU's continuing Education offerings!
Also, you can stay up-to-date with professional development opportunities by signing up for Mount Royal's Faculty of Continuing Education newsletter.
Use the  #GETSTARTED registration code for a $50 discount on eligible Continuing Education programs.
Call 403.440.3833 or toll-free 1.877.287.8001 to register
"I'd like attendees to rethink some of the economic 'truths' that we've all taken for granted, and how in a post-COVID economy, many of the old ways of thinking about Alberta's economy won't hold true," says Hirsch, ATB Financial's vice-president and chief economist. 
Get Todd's slide deck Here
Contact Todd at toddhirsch.com
"While many questions from the start of the pandemic are still relevant — masks, social distancing, the right to refuse work — we are now in a time of vaccinations," Eichler says. "Gaining an understanding of the legal history of some of the big issues and mandatory measures can be helpful in navigating this phase of the pandemic and formulating policies to address new workplace issues that arise."
Get Steve's slide deck Here
Contact Steve at 403-260-8550 or seichler@fieldlaw.com
Access The Full Recording Of The Conference Here
Todd's session titled '5 economic truths to unlearn – Alberta's economy post-pandemic begins at the 03:56 mark.
Steve E's session titled 'A Pointed Discussion: What does the law say about vaccines?' begins at the 45:24 mark.
Steve A's session titled 'Being A Leader Through COVID-19 and Beyond" begins at the 1:37:27 mark.
Download Your Copy of 'You Can't Lead From Behind'
Powerful book with simple steps to success as a leader!

Brilliant piece of work!
Steven Armstrong does an amazing job in this small but powerful book highlighting the fundamentals of strong leadership.
He delivers practical approaches to improving our effectiveness as leaders and demystifies leadership in the process.
Keith J. Johnston - Author of A Garage Full of Ferraris